This is my one foray into furniture, a chairback I did in all sorts of shades of yellow, white, and creme Persian wool. I used a simple line repeating pattern. I was feeling really lazy and didn't use a frame, so the pattern is a bit disorted in spots because the tension was not good. However, because 12-count stiffened canvas was used for the bargello, the pattern isn't very affected as it would be if I'd tried something on a larger scale or more geometric. My advise is to use the frame when you use canvas, so you don't fret later (a lesson learned the hard way). This pattern is found on page forty-three in Margaret Boyles' Bargello: An Explosion in Color. (New York: Macmillan, 1974. [It's out of print, but you can order it here from Amazon.com.]
This is not my work, but instead a historical coverlet from a website that has now disappeared. The piece is dated to about the 15th century, and the image was posted by an Italian antique store. The pattern is a lovely series of S-shaped curved and traditional flamestitch points.
This image is of the "Chain Mail" pattern done in greens and grey but photographed in black and white for Elsa S. Williams' Bargello: Florentine Canvas Work. (New York: Reinhold, 1967). [It's out of print, but you can order it here from Amazon.com.] . I worked a pillow in this pattern in 10-count using purples, cream, and maroon, and unfortunately never photographed it before sending it to a friend.

Photo Copyright of Parham Park
This is a detail of a photograph of a set of period Bargello bed hangings at Parham Park, Pullborough, Sussex, England. These are basically panels of a florentine flame-stitch line pattern joined by twisted, curving needlework trim. These hangings are from the Great Chamber. For a full picture of the bed, see the The Florentine-Work Bargello Page.
The pillow to my left is a combination of a simple line pattern with open spaces using more traditional needlepoint in what looks like basic tent stitch. A pattern guide for making this pillow is for sale at this website:Always and Forever Needleart: Bargello. The image at left is copyright to that website.
The image to the left is copyright to Janet M. Perry and is available on the web on Flickr at this site. It's a simple curved line repeated in various threads. It uses purple, blue, white, and several varigated threads.
The pillow on the left is sold by Shopten25.com. They've named it the Bargello Worth Avenue Pillow and have this amusing description: "We took the classic Bargello flame stitch pattern and tweaked it. Like Palm Beach style on Acid." This pattern alternates single lines of one color with double lines of a color.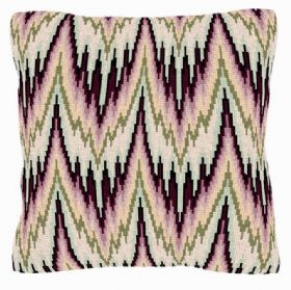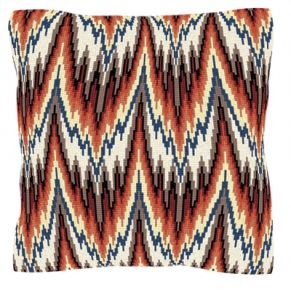 Left are images of two pillows made from Briganta kits. Oddly the website selling them claims they are tent-stitch, but the images do not appear to support this claim. The images are copyright to the online website selling them, Wye Needlecraft. The olive, pink, maroon, and white kit is sold on this page and called somewhat oddly, "Bargello in Peach Geometric Tapestry"; the rust, gray, white, and blue pillow is sold on this page and is called "Bargello in Red Geometric Tapestry." These pillows vary from a normal repeated line pattern in that you can clearly see that the cream or white patches are filled in the space left by restarting the pattern with the maroon or gray line. It looks like the pale pink and the rust colored lines are repeated while the other colors (aside from the cream/white patches) are done in single lines. The is a pattern with long and short stiches, the type traditionally called Florentine.