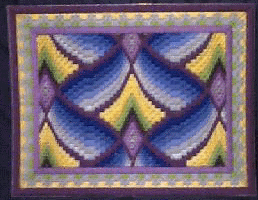 A Framed Version of a Traditional Ribbon Pattern
Here is an unbacked pillow in a ribbon and diamond pattern. I later backed this is a colorful print and gave it to one of my nieces. The pattern is much more effective when done in a smaller size-count, for more of the ribbons show. The ribbons can also be made to seem two- sided by changing the colors when the ribbon turns.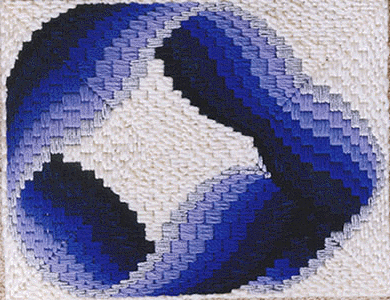 A Purple Ribbon Loop
This is a weird piece that doesn't really work. I wasted tons of yarn by not planning. I keep ripping out the ribbons and flipping them other ways. None ever really ending up looking great. The best part in the texture contrast--two velvet-like chenille yarns, a metallic cord, normal yarns, and the nubby, odd Lion brand yarn. It's odd, but odd in a good way ... I keep telling myself. Ah! the lesson of planning ...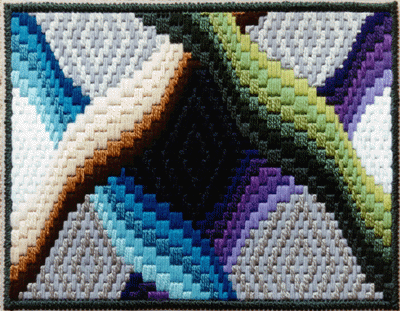 Four Ribbons
This is a ribbon pattern that didn't really work out--I made the green ribbon one strand too fat by mistake and the black-grey-white diamond pattern seems to detract from rather than add to the ribbons.
Bargello Bookmarks
These bookmarks are done in a basic geometric pattern; but as they are ribbon-shaped, I've put them on the ribbon page. One could easily buy the 18-count ribbon sold ready-made and work it in this pattern. The book marks are all done on ready- made 18-count Charles Craft Aida Cloth. These were all stiched with Caron Collection handpainted threads. I used 1-ply of the pima cotton Watercolors and 6-ply of the silk Waterlilies.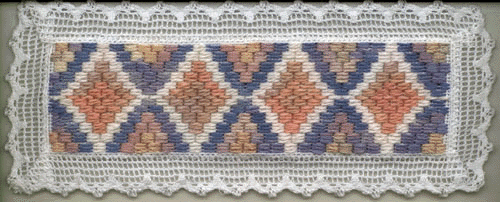 The main frame here is worked in Opal. This is filled in with Cameo. The outer parts are worked in Blue-Lavendar, Morning Mist, and Eggshell.

Here the frame is worked in Cotton Candy and filled in with Bouquet. The outer parts and worked in Seafoam, Crystal Bay, and Hint of Mint.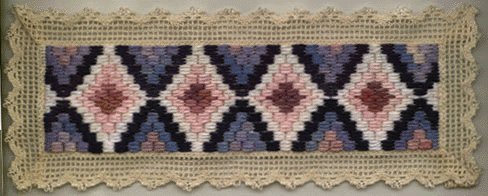 Here the frame is in Opal and filled in with Fresh Pink and a center diamond of Clove. The outside is worked in Midnight, Blue Lavendar, and Morning Mist. This is done on an ecru bookmark.

This is also worked on an ecru bookmark. The frame is Opal, filled with Maple and a center of Gobi Sand. The outside is worked in Clove, Cameo, and Eggshell.